The Lair:
BOOK 2 IN THE SINNER'S GROVE SERIES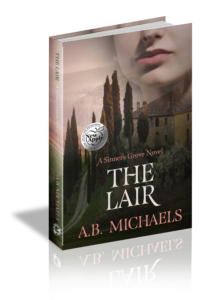 After her father dies in a boating incident, innkeeper Daniela Dunn must travel from Northern California's Sinner's Grove back to Verona, Italy and her childhood home, an estate called the Panther's Lair. It's a mansion full of frightful memories and deeply buried secrets, where appearances are deceiving and the price of honesty is death. As Dani is drawn further into her family's intrigues, she has an unlikely ally in handsome Marin County investigator Gabriele de la Torre. He says he's come along to support her, but his actions prove he has his own hidden agenda.
Gabe de la Torre needs to settle old family debts before starting fresh with the woman he feels could be The One. But once Dani finds out whom he's beholden to, all bets could be off. When a mystery woman reveals that Dani's father may have been murdered, the stakes rise dramatically and Gabe realizes they're now players in a dangerous game. Protecting Dani becomes his top priority, even as she strives to figure out whom she can trust: her relatives, Gabe, or even herself.
Now Available On: