Sinner's Grove:
BOOK 1 IN THE SINNER'S GROVE SERIES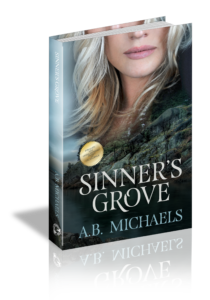 A startling discovery when she was fourteen left San Francisco artist Jenna Bergstrom estranged from her family; unforeseen tragedy only sharpened her loneliness. But now her ailing grandfather needs her expertise to re-open the family's once-famous artists' retreat on the California coast. Reluctantly she agrees, knowing she'll have to face architect Brit Maguire, the ex-love of her life.
Seven years ago, Maguire spent a magical time with the girl of his dreams, only to have her disappear from his life. Now she's back, helping with the biggest architectural renovation of Brit's career. No matter how deep his feelings still run, Brit can't afford the distraction of Jenna Bergstrom, because something is going terribly wrong with the project at Sinner's Grove.
As Jenna and Brit struggle to keep their passion in check, unseen enemies close in, bent on destroying her grandfather's dream — and ultimately, them. Through the prism of ever-increasing danger, Jenna finally discovers what true family — and true love — is all about. But it may be too late …
Now Available On: