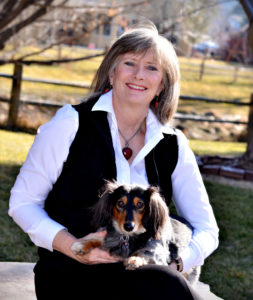 I grew up in northern California and graduated from U.C. Davis before getting master's degrees in history (UCLA) and broadcasting (San Francisco State University). For many years I worked as a promotional writer and editor, both on staff and as a freelancer.  After my husband and I raised our two sons, I finally decided it was time to focus on writing the kind of fiction I like to read.  I keep up with world events, and let's face it – the world is a scary, messy place.  So I think my writing is a control thing – I just want to make sure that some stories end up the way they ought to.  That doesn't mean I can't tackle important issues like trust and identity and finding the right priorities in life.
And it certainly doesn't mean I won't put my characters through the wringer!  My new series, "Sinner's Grove," pits men and women against forces ranging from merely corrupt to downright evil. But I'd say the greatest challenge for my heroes and heroines lies in overcoming their own flaws as they search for lasting love.
As for me, I live the good life in Boise, Idaho. When I'm not hunkered down in front of the computer up in my office/sewing room, I'm trying to get in those 10,000 steps a day by exercising or walking our two dogs, one of which, as you can see, is a dachshund.  Teddy and our other dog, a rat terrier named Ziggy, think for some reason that they rule the roost!  Occasionally I embarrass myself on the golf course or bocce court, but I love it, so I don't mind. And oh, I do love to travel. Enough about me.  Time to get back to writing my next "Sinner's Grove" adventure!
Why Sinner's Grove?
The idea for Sinner's Grove started more than ten years ago while I was living in San Anselmo, a little town north of San Francisco in Marin County, California. If you drive due west from there, you'll come to the Point Reyes National Seashore. The land in between is gorgeous, with a series of little towns giving way to dairy farms which then morph into hills and trees and coastline. My sister-in-law and I would poke around the area and wonder aloud what it would be like to live there, a world apart from the crazy energy of the greater San Francisco Bay Area. We brainstormed and came up with a fictional bayside community called Little Eden. And you know where there's Eden, there's got to be some sin…and the idea of Sinner's Grove was born.